Before leaving Las Vegas (yes, I know that's the title of a movie) I wanted to see and photograph the famous Welcome to Las Vegas sign. Deciding this was within walking distance from the Luxor, we bravely set off on foot. Ten minutes later we had reached The Strip, such is the distance that the hotels are set back from the road! We headed south along a sidewalk that was crossed every few yards by some very wide roads. Funnily enough the sign was actually quite a bit further than it appeared to be on the, now obviously "not to scale" tourist map of the Vegas Strip.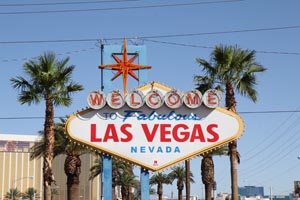 The sign is exactly what you would expect, perhaps even down to the queue of people wanting to have their picture taken in front of it and to Elvis standing by to join you in your photos for a small fee. I guess it wasn't worth the walk, but it satisfied what I thought I had to do before setting off, almost a little bizarre, our final view of Las Vegas was its welcome sign.
Originally I had looked at driving north of the Grand Canyon to visit Zion National Park on our way from Las Vegas to Flagstaff; the more direct route being relatively uninteresting. However after due consideration I felt that it would make the day very long and not really allow us enough time to appreciate Zion. So, reluctantly leaving Zion for another vacation, we just took the direct route to Flagstaff.
I had roughed out a plan to visit the Sedona red rock area just south of Flagstaff, but didn't seriously believe we'd have the time or inclination to go there. I think with the thought of seeing the Grand Canyon I didn't want to "cram in" more sightseeing on the day before. So, all we did today was drive along the interstates to Flagstaff. This at least meant we had some time to relax in the hotel before our Grand Canyon visit tomorrow.