Los Angeles was a difficult place to leave. Although this was due to the heavy traffic rather than a desire to stay or the distance from its southern point to our north west exit onto the Pacific Coast Highway. Having driven for a morning from Newport Beach we had only reached Pacific Palisades on the north-western edge of the sprawling metropolis when we stopped for some lunch at the Starbucks inside a Vons supermarket. As a portent of things to come we came across a hippy woman trying her best to convince the barista to get a dream catcher to ensure he only gets good dreams. An hour later we were parked near Stearn's Wharf in Santa Barbara.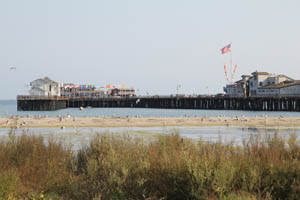 I should have guessed what the place would be like when I spotted two scruffy people going through the car park bins. State Street which runs from Stearn's Wharf into downtown initially looks like paradise with its lush landscaped sidewalks and high-end designer stores. On each of the what would otherwise be ideally placed benches at intervals along the street were various beggars trying to beg a dollar either outright, by way of a clever argument or in exchange for having your picture taken holding a snake. After a few hundred yards of this we began to feel a little uncomfortable and intimidated. I noticed some people, presumably locals, who either simply ignored them or tossed an odd coin into their various collection tins, hats, outstretched hands. One person walked behind us and welcomed us to Santa Barbara, asking where we were from having quickly determined we were tourists given the map and camera. He turned out to be very friendly and only wanted to welcome us to his town before turning off State Street. To be fair we didn't have any problems but the place just didn't feel good.
After visiting the Court House, taken in the lovely 360 degree views from the clock tower and climbed back down again,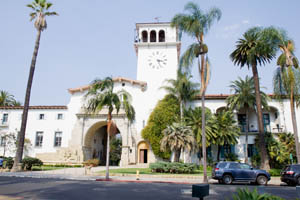 we decided that the electric tram back to the wharf would be much better than walking back along the gauntlet of beggars. For a flat fare of 50 cents we arrived safely back at the wharf and had a great meal at one of the restaurants on the pier. Of course this meant that by the time we arrived in Pismo Beach for our first overnight stop the sun was beginning to set which leads me to Rule # 1 of Road Trips : You will always arrive at your overnight destination with the hotel to the west of you, directly in line with the setting sun making it as hard as possible for driving and navigating.
It felt very much that our journey had begun
I can't really say much about Pismo Beach as it was just an overnight stop for us. But this was the first part of our trip and as we headed along the Pacific coast, past vineyards along US 101, it felt very much that our journey had begun. El Camino Real, The Royal Road which links California's historic missions marked periodically with bells hung on 11 foot high shepherd's crooks, would be our route along the coast as we headed northwards towards San Francisco.